Sri-Ona-Gandeshwarar-Temple is a Lord Shiva temple amids the temple town of Kanchipuram.
The temple is a padal petra sthalam and the Lord Shiva here is worhsipped by Sundarar.
The temple has three lingams of Lord Shiva- Sri Oneswarar, Sri-Gandeswarar and Sri Jalendeswarar.
According to legends, three Asuras- have worshipped Lord Shiva here with their own lingams here in barren land. Sundarar – when he was on the way realized this and decided to build a temple for the three lingams. He sang hymns on Lord Shiva and got money and built the temple.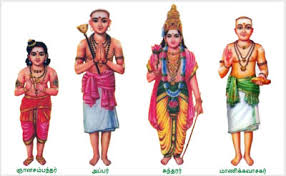 Padal Petra Sthalam
This is one of the 276 temples mentioned in Devaram which are collections of songs of these temples by Thirunavukkarasar, Thirugnasambandar, Sundarar and Manickavasagar. These collection of songs composed by the great saints describe many of these temples, deities, history, legends, sthala vruksha, temple ponds and other details about the god and temple.
recommended nearby places
MUST visit places – NEARBY